WRITTEN BY MIKAEL TRENCH
PHOTOGRAPHED BY EMMA DAKIN
Atlanta has always been known for having restaurants that stand out from the rest, but every now and again, there are still a few that may surprise even the most devoted foodies. For those who may have a little bit of jungle fever, SCAN has you covered with some of Atlanta's most wild restaurants.
R. Thomas' Deluxe Grill
1812 Peachtree Street, NW
It's hard to think that a place as distinct as R. Thomas' started off as a burger joint, but this lively, tropical-themed eatery has certainly come a long way from its humble beginnings. From the bright, colorful interior to the lush gardens outside and the collection of exotic birds including several parrots and a toucan that greet visitors by the entrance, there is no denying that this is a dining establishment with a wild side.
The Sunflower Pate certainly captured the restaurant's overall essence the most out of the appetizers, with its natural taste and organic ingredients that consist of fresh walnuts with onions, peppers and tamari.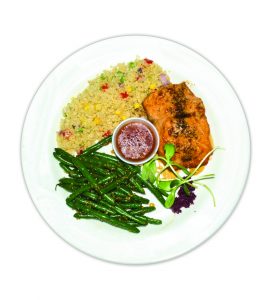 R.'s Salmon Piccata
A dish consisting of tender salmon sauteed in lemon and butter sauce served with a side of quinoa and vegetables, explodes with a natural, hearty flavor that is hard to resist.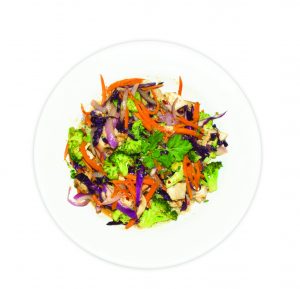 Thai Express Bowl
A quinoa-laden dish topped with a bevy of vegetables, spicy peanut sauce and hearty chicken.
Trader Vic's
255 Courtland St NE
For a one-of-a-kind Polynesian experience, Trader Vic's will satisfy those who have a love for the island life. Being one of only two Trader Vic's locations in the United States, the home of the original Mai Tai has an atmosphere almost as exclusive as its locations.  
Full of carved tikis, palm-thatched ceilings and a calming water fountain within a colorful garden, this is a restaurant that knows how to truly bring its visitors into an experience
Cosmo Tidbits
This sampler plate of Trader Vic's appetizers offers calamari, crispy prawns, crab rangoons, cha siu pork, and more. Each flavor adds to the island experience, and all taste great, especially with their included sauces.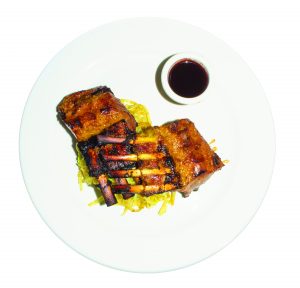 Indonesian Rack of Lamb
This Bali-spiced rack of lamb served with Singapore-style curried noodles is fortunately just as good as it sounds. Its unique blend of a tender texture and wine sauce is only made better when combined with its noodles.
Volcano Shrimp
While not as spicy as the name might suggest, this is still a rather hearty dish with its mix of stir-fried garlic shrimp, various peppers and jasmine rice. The dish's Asiatic flavor added to its tastiness and is sure to leave you satisfied.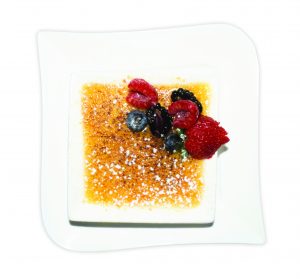 Mai Tai Creme Brulee
Creamy and sweet, this classic dessert has a bit of a tropical twist.