Elevating Voices, Celebrating Differences
The Community Club at SCAD Atlanta celebrates the contributions and perspectives of the LGBTQIA+ community with passion and pride.
WRITTEN BY ARUNDHATI PRASAD
PHOTOGRAPHED BY CONRAD MAXWELL-GIROD
In a creative college environment, it is important to have the opportunity and right to voice one's views and opinions. It is also important to surround oneself with people who encourage healthy skepticism and freedom of expression. SCAD Atlanta's Community Club promotes these values to build a more inclusive student community.
In his sophomore year, Samuel Landis, a fourth-year branded entertainment major,  took the club's helm from alumnus Jason Parrish. "I was nervous," said Landis, who was told that if he didn't take it up, the club would likely cease to exist. "I remember thinking, this can't die. So many students need this space to tell their stories." Sam reached out to his friends Jasmine Martin, a fourth-year branded entertainment major and Mitchell Atwater, a fourth-year visual effects major, who helped him strengthen the club along with Parrish's continued support.
The club has grown to more than 45 members in the past few years and serves students from all over the world regardless of what their faith is, their gender, color, sexuality or belief. Their goal is to establish a sense of community and solidarity, not just among the members, but for all students at SCAD Atlanta. When asked about creating a safe space for students, Landis said, "there is no such thing as a safe space — there is only brave space."
The club is about coming together to celebrate diversity in all its forms and encourages students to come as they are, be challenged to grow and become more accepting of others.
"We are stronger in our diversity," said Landis. "It is empowering to hear people's stories as it gives others the courage to speak up." According to Landis, we live in a world where people like to label themselves and categorize their interests. It is important to find a non-judgmental space where diverse views are celebrated.
Running a student organization and planning events for its members is not an easy task. It requires patience, passion and persistence. When asked about the obstacles one may face as a student leader, Landis mentioned that learning to navigate people's temperaments, emotions and feelings is the most challenging part of leading a club.
"No one is perfect. Hearing people out and letting a difference of opinion add to one's perspective is the best way to maintain the core belief of the club," Landis said, adding that hearing stories and recognizing another person's point of view not only informs one's own perspective, but also makes one a better listener.
Participation is always encouraged and is the key to hosting a successful program. "Let someone else make the poster, design the t-shirt or send out the newsletter," said Landis. "It's more authentic if you hear about the club from different members." The Community Club would certainly not be what it is today without its members and leadership, such as vice president Grey Havens, a third-year animation student, Mishi Lee, a first-year animation student and Isabelle Topp, a third-year interior design student.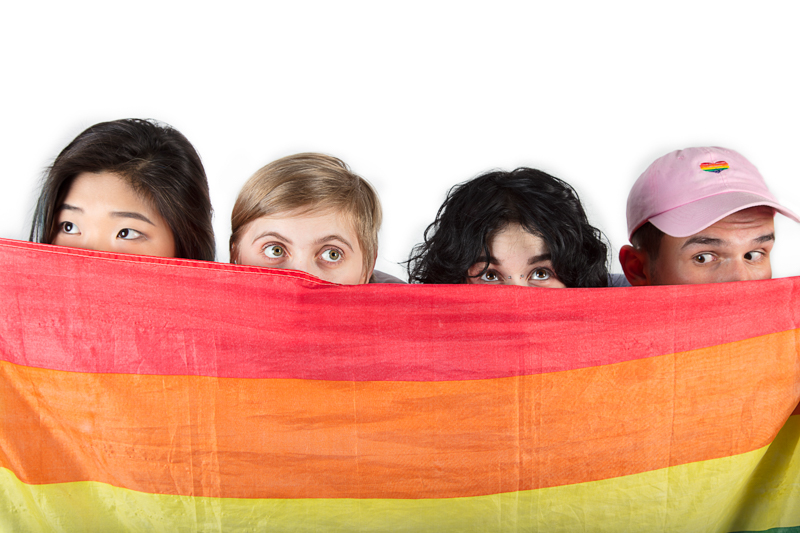 The club aims to connect SCAD Atlanta's LGBTQIA+ students with the Atlanta community through local events and partnering with organizations such as Lost and Found, an Atlanta non-profit that works towards ending homelessness for the LGBTQ community.
"It is important to give back. We stand on the shoulders of those who have paved the way for us and we owe it to the people around us," said Landis, who also wants mentoring and discussions about self-care and mental health to be one of the club's immediate goals.
Last quarter, the club organized a drag show. "We named it 'Can't Drag Us Down' and the theme was empowerment," said Landis. The show featured both regular performers and amateurs who had never done a drag show before. "People chose songs that pumped them up and became so much more comfortable and open. They came because they felt a sense of belonging. To me that is the biggest achievement," said Landis.
The club also participated in Atlanta's Pride parade in October, celebrating LGBT History Month. "We had nearly 45 people who walked with us, and it was so many people's first Pride," said Landis, who considers Pride a remarkable experience as all your people are gathered together in one place. "It was a big party. Everyone got together and made T-shirts, posters, cupcakes and cookies. We got creative with it, and I gave everyone glitter baptisms."
For the winter quarter, the Community CLub is looking to team up with the Black Students Association and SCAD Indian Students' Association (SISA) to organize a diversity week. "We want to do a whole week of events, have speakers and even put up art installations," said Landis, who thinks it would be a good way to bring everyone together and celebrate diversity at SCAD Atlanta. The club is active all through the quarter with bi-weekly meetings, movie nights and outings, and a featured event that changes every quarter.
For Landis, becoming part of the Community Club felt like "finding a herd of rainbow sheep" who celebrate each other's differences. The LGBT Community club has not only given students the confidence to speak their mind, but also the platform to be heard.