Southern Tradition
If you're feeling nostalgic for southern tradition, look no further than your local food hall like the one at Ponce City Market
WRITTEN BY ALLISON BOLT
PHOTOGRAPHED BY EMMA DAKIN
I miss family gatherings. The Southern kind with everyone crowded around a table passing the cornbread, talking and laughing. After moving to Atlanta for college, I found that the holiday season just wasn't the same without attending a family gathering. It wasn't home. That is until I stumbled into a 150-year-old factory repurposed into a "food hall."
Food halls have largely been referred to as a "millennial trend," but I disagree. The word "trend" implies these food halls are a fleeting concept and will soon disappear. Food halls aren't going anywhere. Their deeply interwoven relation to America's roots creates a sense of nostalgia that is irreplaceable. They are getting back to wholesome Southern traditions.
In my family, the gathering tradition happened at least once a year. Every member of the family attended, including divorced uncles, step-cousins, half-great aunts and the grandparents who kiss your cheek and tell you how much you've grown. These gatherings took place at my great-grandfather's house. My great-grandfather, known as Grandaddy to us, used to own a little convenience store in front of the house, which had been repurposed into his woodshop. That building was a little piece of history. It was the building in which he ran his business with his wife and all five children. The building in, which he received his draft letter during World War II. The building that my grandma met my grandpa in while working behind the counter. The one Grandaddy spent his retired years in crafting furniture and birdhouses. The building that we cleared out once a year for the family he had created. I always liked walking into that building and imagining the stories my grandparents told me.
Our gatherings were potlucks, as most Southern family suppers are. Each member cooked a family recipe to bring. For us, that was our special mac 'n' cheese, the good kind with crushed Ritz crackers baked on the top. I can still remember the way my mother tied a white apron with red, floral embroidery around my waist while we cooked.
Everyone arrived hours in advance for supper to decorate and set up the food. White, plastic folding tables with paper tablecloths stretched across the long, rectangular building, covered in casseroles, hams, mac 'n' cheese, collard greens, rutabagas, green beans, deviled eggs, cabbage and of course, fried chicken. We sat at one long table passing the cornbread, soothing crying babies, taking family photos with Grandaddy, and catching up loudly enough that we drowned out the music playing in the background.
This was the same atmosphere I found the first time I entered a food hall.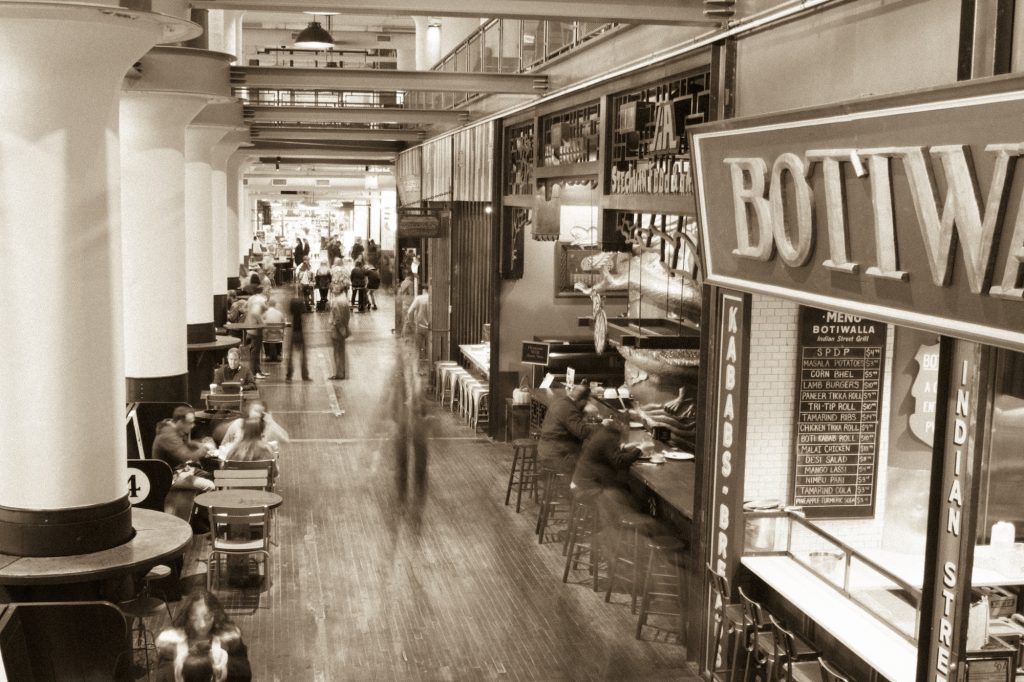 I stumbled into Ponce City Market one day, a colossal old factory turned food hall, drawn in by the familiar smells of fried chicken. I walked through the oversized metal doors and found a gaping room filled with communal tables full of people eating, passing the bread and chatting. It felt as if I had wandered into a family gathering at Grandaddy's. The building had a feeling to it. It had a heartbeat. It breathed life back into a forgotten place.
Upon first entering the market, I felt a sense of nostalgia for something unknown. I was utterly unaware, at the time, of the factory's vast history as an Atlanta landmark, but I could feel that I was stepping into a part of Southern history.  Walking through what used to be the steel-coated loading area, I felt as if I was stepping into my Grandaddy's store building all those years ago. I climbed the old staircases leading from one floor to the next, the same way I climbed the stairs to Grandaddy's woodshop as a child.
Now,  I emerged into a crowded room filled with music and exuberant conversations. People filed into the hall Beltline to my left and trickled in from Old Fourth Ward and an interstate full of traffic to my right. They walked from across the street, or from the apartments and neighborhoods nearby. It was as if every road, bike path and sidewalk led the citizens of Atlanta to this building.
My Southern roots led me to Hop's Chicken, a window-service stall offering comfort food. There, I found fried chicken, collard greens and of course, the famous family gathering mac 'n' cheese. It was as if I had gotten in line at my Grandaddy's store building, surrounded by my family as we served ourselves our traditional food. It was as if I was home.
I ordered too much food, reminiscent of how I used to put too much food on my plate as a child, but I didn't care and had hopes to eat it all. I turned around to find an oversized wooden table filled with people and one empty spot.  
I took a seat between a woman with a French pastry and coffee, typing away on her laptop and a man eating a paneer tikka roll with a Thumbs Up soda. They both greeted me. In fact, everyone at the oversized communal table greeted me. I was soon involved in a conversation with strangers as I ate my fried chicken and mac 'n' cheese inside an old factory where a worker probably ate their lunch in 1925. I suddenly felt like a part of something bigger, like a part of a community I had only just joined.
Grandaddy is gone, the store building has been sold and the family gatherings have fizzled out. I am far away from my family, and so food halls have replaced the feeling of potluck suppers in my new city. I do not eat at local food halls because they are trendy. I eat at local food halls to feel what I once took for granted as a child. I eat at local food halls to remember my Grandaddy, to remember that day in his store building when he smiled a mischievous smile at me and trusted me in his beloved woodshop. I eat at local food halls to reminisce of home as I am surrounded by the chatter of people catching up, taking photos and passing the cornbread.