WRITTEN BY TYLER SPINOSA
ILLUSTRATED BY HANNAH LI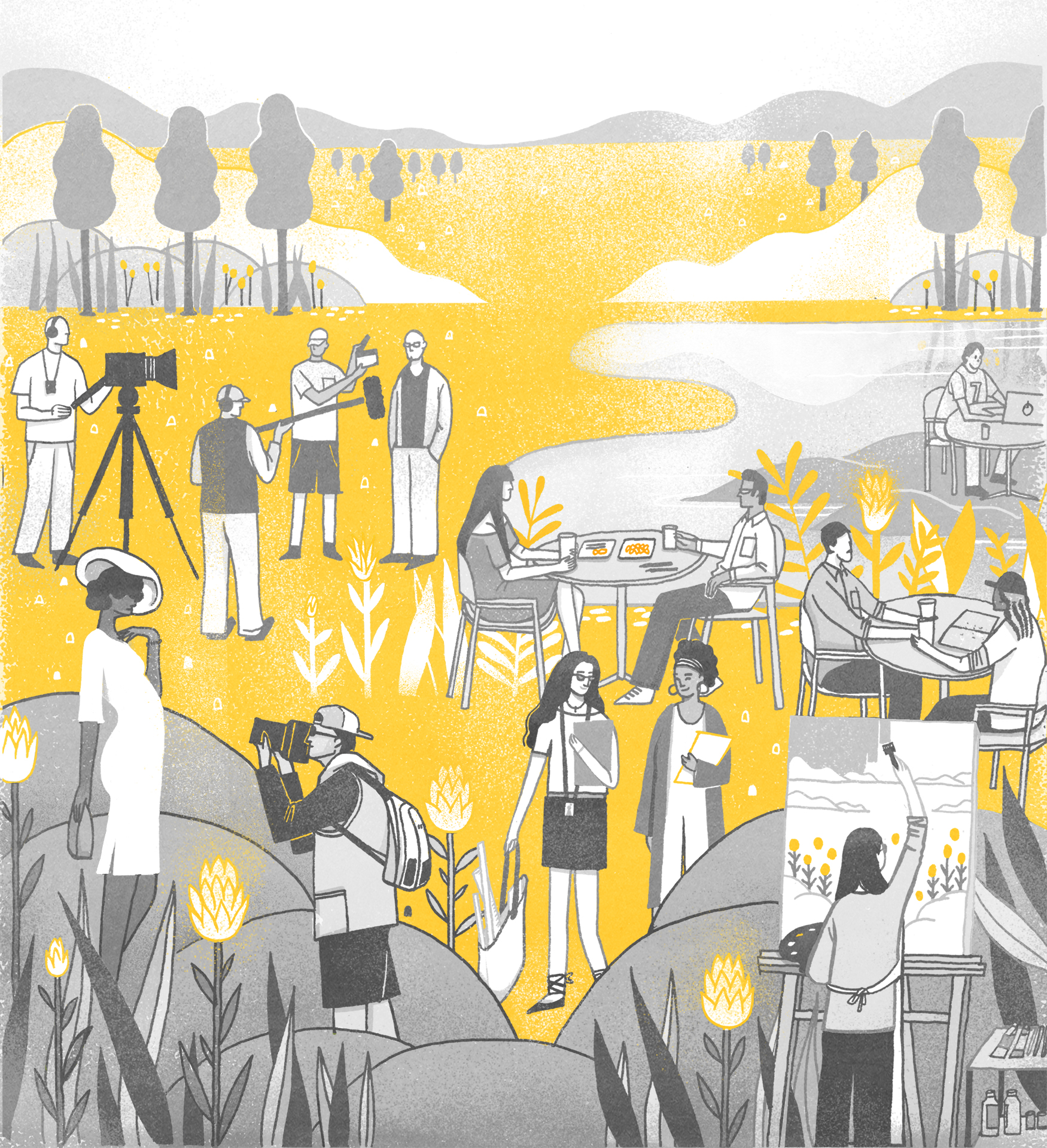 Few expeditions are more informative and invigorating than those within the ecosystem at SCAD Atlanta. I was lucky enough to spend several weeks deep in the wild, observing the creative creatures that inhabit the area and get first-hand insights on how they interact and survive.
The Hub is one of the most active gathering places in the SCAD community, a primal arena where artists of all shapes and sizes cross paths in search of sustenance in between the rigor and hardship of classes. At first glance, every major blends into a hurried frenzy of art students trying to reach the chow line and claim their kill.
But, upon closer inspection, each major can be distinguished by their unique qualities. For instance, the illustrators can usually be found crouched over a flat surface scribbling away in their sketch pads, never without a writing utensil and a hunched posture. Photographers like to linger on the outskirts, peering through their lenses and capturing the feeding frenzy on film. Their counterparts, the film students, can be spotted by the occasional tripod setup, waiting to capture the madness for their latest film.
The animators are known for consuming sugary snacks to fuel their high-energy escapades. Their intensity exhibits the kind of enthusiasm that only comes from those driven by the dreams of the young. Graphic designers and motion media majors are marked by their Macbooks and Adobe programs, possibly trying to finish their latest layout or title sequence. Every group can be seen consuming caffeine at some capacity.
There is an understanding of peace in the Hub, a break from the massacres of class critiques. However, the Hub is not without conflict. At the start of feeding time, the strongest from each group fights their way to the front to make sure they get the pizza before it's all gone. A line for the grill extends out of the kitchen and past the tables. Only the quickest receive french fries from the first batch. The rest will have to wait their turn.
At the end of my time examining the different creatures from each major, it became apparent that their differences were only cosmetic. Underneath the particular nature of their chosen field was a shared struggle to succeed and survive. These art students are a unique specimen indeed, for no matter how lofty or strange their goals might be, they all strive for success instead of resigning to a life filled with debt accrued from unused degrees.