WRITTEN BY ANYA HABER
PHOTOGRAPHED BY CONRAD MAXWELL-GIROD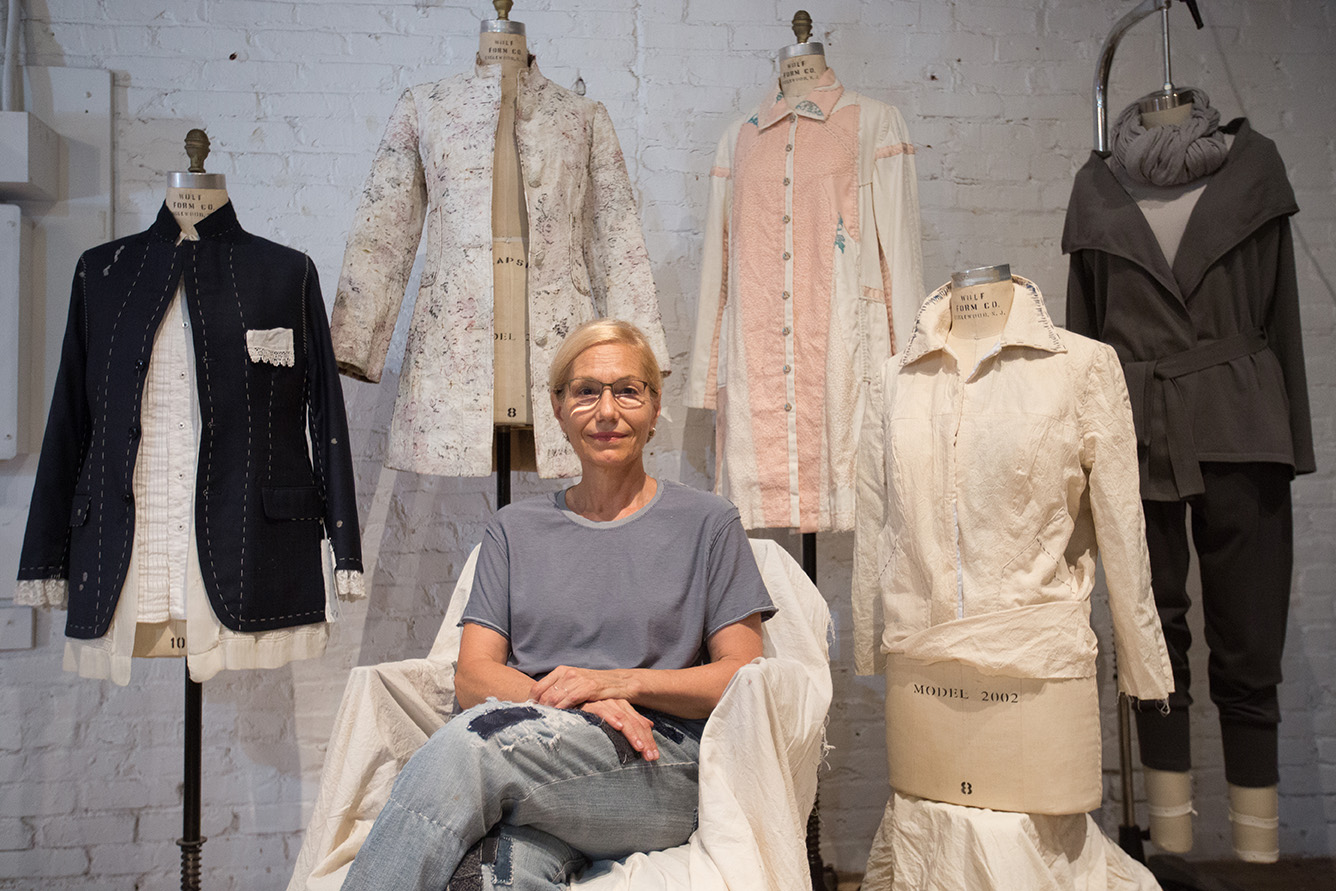 Karen Glass' Atlanta based high-end fashion label, Zerøwaste, is known as much for its social and environmental missions as it is for their meticulously crafted designs. The label utilizes studio practices that produce almost no waste. For Glass and her company, Zerøwaste extends far beyond just the fashion label — it's a way of life. This sentiment is deeply echoed in the brand's mantra, "living life of fewer things with greater value."
When describing the brand's aesthetic, Glass credits the nature of the process. When creating garments, fabric scraps are either sewn into future garments or turned into paper to produce labels. Everything is reused, whether it's note-scribbled paper, fabric scraps or cardboard boxes. "Because we work with found objects and work with zero waste, it confines and structures us," said Glass. "We can't grab any piece of fabric; it needs to fit within our values, which in turn helps form the aesthetic. I think that's really rare."
Glass and her team pull from an archive of globally sourced materials, accrued over decades of frequent travel to garment factories during her time in fast fashion. This unique fabric source aids in the beauty of her designs. The brand's "ø" archive line breathes new life into textile remnants, transforming them into new garments, each piece unique and constructed over the course of 100-200 hours. For the label's first archive collection, titled "obi," the textile scraps, complete with original factory labels, were discovered at a Parisian flea market, their origins dating back to 1930's China.
Glass worked in the ready-to-wear fashion industry for decades before launching her sustainable label in 2015. Glass described her transition as a long road that led to a change in values, a yearning for a deeper sense of self in both her professional and personal life. One incident specifically stuck in her mind, she said. When working at as head of production at Chico's, Glass witnessed a lot of the clothing she had been accountable for making wind up in thrift stores and garbage dumps. A pivotal moment, Glass remembers seeing a Chico's garment, dirty and destroyed, lying in the street. "I could remember where it was made and how it was made, yet saw what little value it really had," Glass said. Her experience is far from unique. According to fashion tycoon Eileen Fisher, the garment industry is the second largest source of environmental pollution, beat out only by big oil. The Environmental Protection Agency estimated that, in 2013, the garment industry produced 15.1 tons of waste.Glass says she sees her brand as part of a growing trend known as American small-batch production, or the small scale production of higher quality products, which she believes will grow and eventually replace the current model of specialty retail. This brand isn't a niche label either, servicing a new purchasing demographic gaining ground known as cultural creatives. First termed in 2000, this market segment accounted for roughly $300 billion in purchasing power in the United States, accounting for roughly 30 percent of the American consumer market, according to the Worldwatch Institute. Creating a label of value is now appealing to the consumer, with cultural creatives wanting alternative products that show they care about sustainability and the collective culture, aligning closely with their own personal values. She believes current students should be aware of this growing consumer market, as cultural creatives will most likely be the clients SCAD students will be serving in their careers.
Glass is also a huge proponent of entrepreneurship, encouraging young creatives to spend time finding their own voice, rather than working for a large corporation. "It's hard at first, but the more people who engage in entrepreneurship, the stronger the collective conscious and force of creatives becomes," said Glass. "It would be great to have an economy based on creativity, an incredible source of personal, collective, social and spiritual growth." Glass also stressed that students should remember they're not just a business. "You are creating for the collective conscious, community and adding values to others lives," said Glass.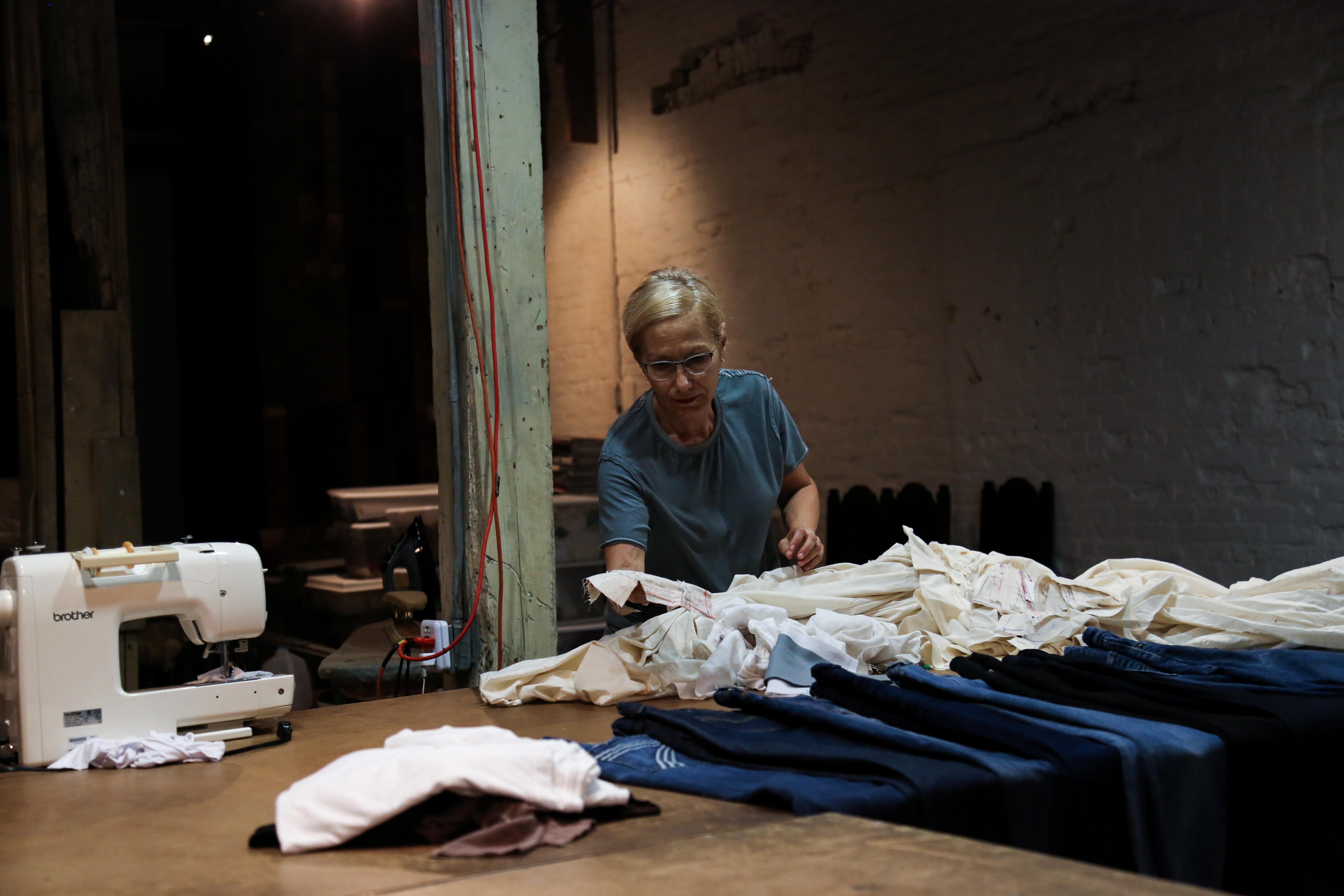 Glass also partners with Beloved Atlanta, a local nonprofit that supports victimized women through rehabilitation programs. "That's why we do what we do, making exquisite clothing while working on a program to help rehabilitate victimized women," said Glass. "This model isn't for large corporations, but should be implemented everywhere. You can't find that at big corporations, they are too institutional."
Looking forward for the rising fashion brand, Zerøwaste is launching their new e-commerce platform, releasing a new fashion campaign and are in discussions for their own gallery installation.
In her last few words, Glass urges us to action —"As artists, it's our job to create a better world, regardless of the medium. Our thoughts are so powerful." As her brand continues to grow, she hopes other industries will follow suit in dedicating resources to preserving the environment.